1. How to set up your new GlobalTix Account
August 27, 2023
1. How to set up your new GlobalTix Account
Hello there! Welcome onboard your first training with GlobalTix. We're glad to have you here today and we can't wait to introduce everything GlobalTix has to offer!
If you're new here, head to https://merchant.globaltix.com/ to register for a new account.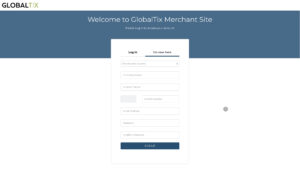 Fill in the all the information and click on 'Sign up' and our onboarding team will be in touch with you in 3-5 working days to help you get started!
If you're an existing merchant with GlobalTix, go to the 'Log In' tab and login with your username and password. (Username will be the email address you signed up with)
If you've forgotten your password or would like to reset your password, click on 'Forgot Password' and you will receive an email to reset your password.
That's all for now! In the next video, you'll learn how to Create & Manage Products. 
Once again, welcome onboard GlobalTix and we'll see you at the next training, 


Subscribe To Our Newsletter
Receive the latest news and resources in your inbox